NEW RS5 BY RSQUATTRO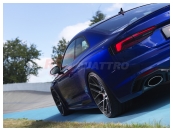 NEW RS5 V6 Project Completed.
The Mods possible tested during more than 5000 KM include:
* KW coilover V3 suspension with HLS4 modules (hydraulic lift system on 4 wheels)
* Custom made RS QUATTRO RSQi forged wheels using 2 or 3 piece assembly technology in 9X21 and 11x21 or any dimensions you would like ,here with Michelin Super Sport 245/30/21 and 295/25/21 tires
* Complete HMS exhaust from the turbo including, 200 cell sport cats which increase torque by a a lovely 40Nm, downpipes with front silencer bypass, center  muffler system, and rear mufflers with advanced valve technology controlled with a remote to master the opening/closing when you want it (3 modes, fully open, fully closed, or OEM)
* Custom made 420mm adapted Ceramic brakes for the front and 370mm adapted ceramic brakes for the rear with custom paint job and RS QUATTRO logos
* Engine Power upgrade using advanced external digital box allowing us to reach 520 HP and 770 Nm of pure pleasure (with sport cats). 0 to 100Km/h decreasec to 3.6 sec. Hell this works !
We've added many new pictures to our Gallery section. check them out.