Upgrading your steering wheel can be one of the best modifications on your car to enhance your driving pleasure. It will definitely improve the looks of your interior and if you do this right it will simply transform your driving experience. The OEM steering wheels are typically pretty thin in thickness (35 to 38mm) and in some cases could be better if smaller in diameter. Any customer who has trusted us with an RS steering wheel upgrade is fully taking control of their car as the wheel thickness jumps to 40mm. This small increase in thickness makes a huge difference in the way you "feel" the car. Moreover, the RS flat bottom sport steering wheels typically come with air leather wrapping which is just that sporty look that is missing on the other OEM steering wheels.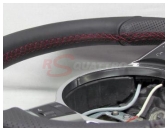 We are able to retrofit/modify/adapt almost any RS steering wheels and we should be able to provide a solution for your Audi. In many case your airbag will have to be changed to fit with the new steering wheel. In that case, we supply the right airbag required for a Plug & Play installation. We can modify any existing steering wheels (round or flat bottom). If it is a round version, we can transform it into a flat bottom version. We can make them thicker to be "RS" style, and wrap it in any type of leather (perforated leather or not), or Alcantara using any color of stitching you like.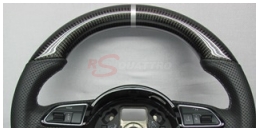 This goes with a selection of either bottom real carbon wrapping alone or top and bottom carbon wrapping. On the top part, it can be added a racing stripe of any color. Any logo can be selected as well. We can also, in many cases, make it smaller in diameter By now you've understood we can transform your steering wheel dreams into reality.
Have a look at the pictures below of some of the steering wheels we have done before. This will only give you a flavor of some of the things we can do, so do not hesitate to ask us for a quotation with your specific needs.
As this represents a lot of customization all is made to order so we rarely have stock. We ship worldwide and have shipped in all continents including Asia, North America, Europe and Australia.
Contact us for more info!