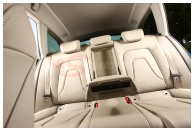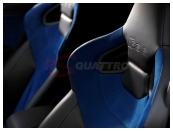 When you are thinking of upgrading your Audi interior, often you wonder if changing your car seats or upgrading your interior with another color of leather, Alcantara or Suede is not the right move.
We are able to provide you and ship worldwide the very exclusive RS bucketseats (S3, RS3, RS4, RS5, RS6, R8). They come standard with high quality black Nappa leather. We can of course replace that black leather with any material/color of your choice. Due to its rarity, pricing for a secondhand pair do start at 5000 EUR and this can only trend upwards as time goes by. Please do take this under consideration before contacting us about these rare seats.
We are very proud to be able to supply any OEM leather type/color to match your exact existing leather type of your interior. We can then use it on your standard or bucket seats. This OEM leather can be sold separately if wanted.
We can basically do any type of car parts upholstery/wrapping including the following parts:
Steering wheels
Seats
Side panels
shift boots and e-brake boots
Roof liners (best looking with Alcantara or Suede)

If you desire a special stitching pattern, that can be done as well. For example we can manually reproduce the forms of the RS grills like it is done on the center parts of the RS6 4G seats.

Contact us for more info!