Safety in a car is by far the most important characteristic we value at RS QUATTRO. Having the right braking performance is critical for your own safety. OEM brakes are typically well sized when the car has not been modified and used in normal circumstances. But obviously, as soon as you modify your car (like if you add more power to your engine) and/or if you have a tendency to use your brakes quite often (drive fast and often use of full power or just race track usage…), you will quickly end up with burned or vibrating brake rotors with partial or significant loss of braking power.

A couple of options can be done to improve your braking performance including  simple rotor replacement (same OEM size) together with new pads while keeping OEM calipers, to the complete upgrade kit with multi-piston calipers, larger diameter and larger thickness as well as improved cooling features. We also can propose complete Audi ceramic brake kit packages for many Audis.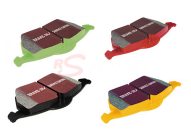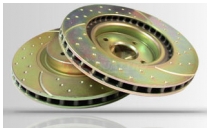 For the simple rotor and pads upgrade, the braking power is not only improving slightly but you will also see a reduction in brake fading. We work mainly with "EBC brakes" and the beauty is that prices are comparable or cheaper to OEM brakes with similar sizes so it's a great investment. Of course this is just a small improvement in braking performance so if you are into big braking needs you will need to consider the other options.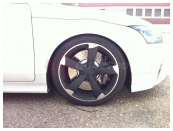 When you seriously need braking power, you definitely need to consider a full brake kit with new multi-piston calipers, bigger sized rotors and their respective pads, improved brake lines, and improved brake fluid. The kits we typically propose are kits composed of AUDI RS parts that can be adapted on other Audis. The prices for these AUDI RS kits end up being typically cheaper than using famous brake brand names like Brembo or AP Racing. Nevertheless, don't' expect anything cheaper than 2500 EUR for small kits. In some cases if you already have an RS car, only replacing the rotor can be done while keeping the caliper and still using a bigger sized rotor (the caliper is then moved away with an adapter). On certain RS cars (like on TTRS), there are known brake issues, so we strongly recommend to upgrade with a bigger kit (380mm kit with 6 piston caliper).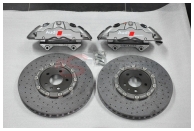 Last but not least, we can propose you the best technology there is to offer for braking performance which is brake kits composed of ceramics rotors. As you know these rotors have a very long durability, providing they are used correctly, and they are extremely resistant to brake fading issues. We can propose ceramic kits from RS4 B7, RS5, S6/S7 4G, RS6/RS7 4G, S8 4H and even the R8 V10 kit. Of course prices for these kits are pretty steep but you only get the best for your Audi.



Contact us for more info!