NEW RS5 B9 STAGE2 Power Pack Market Introduction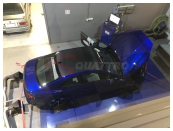 A couple of weeks ago, we announced that we started to work on the engine mods development on our NEW Audi RS5 2.9 V6 450 HP demo car. After many hours of testing and no less than 2000 Km (1250 miles) driven in all conditions, we are extremely proud to introduce on the market our STAGE2  power pack. This Power pack consists of a complete exhaust system starting from the turbo outlet  with 200cell sport cats, front center bypass, and rear section muffler system with valves managed by a remote system (or OEM as desired) + an optimized engine management + an RS QUATTRO performance air filter. On our demo car, this enabled us to reach 517 HP of power and 770Nm of torque, with OEM figures measured at 465 HP and 650Nm where Audi announced 450 HP and 600Nm. The replaced OEM twin-catalyzed exhaust section (4 in total) by a mono 200cell sport cat version (2 in total) provide 5HP but more interestingly 40Nm of additional torque. The engine optimization is achieved by the addition of a programmable multi-channel digital engine control module using the latest technologies on the market. It can be removed and replaced by a bypass in less than a minute in order to keep the OEM warranty.
This performance gain allowed our demo RS5 to decrease it's 0 to 100km/h down to 3.6 seconds (0-60mph to 3.5s) and the 0 to 200Km/h down to 11.6 seconds which makes the RS6 Performance 605HP a slower car.
The never ending thrust during the acceleration, combined with unbelievable engine flexibility on the lower revs, and an exciting exhaust sound transforms this RS5 in a mean war machine ready to swallow miles with so much ease. It goes without saying that all the above applies also to the NEW RS4 AVANT 2.9 V6 450 HP (with a small increase of the 0-60 data, due to the weight addition).
Of course, RS QUATTRO did not stop its improvements there. The suspension is now replaced by a KW V3 coilover system with HLS hydraulic lift modules (can lift up to 1.6 inches) on the 4 sides with the use of a button inside the car replacing the cigarette lighter spot, The front seats were replaced by real RS bucket seats, using OEM leather and special RS stitching techniques while rear of the seats were car color painted and RS QUATTRO logo, The brakes were removed and replaced by fully adapted 420mm front and 370mm rear RS6 4G ceramics brakes, The wheels were replaced by custom made 21inch forged wheels using specific RS QUATTRO design to fit Michelin Super Sport 245/30/21 front and 295/25/21 rear tires, electronic coding/mods were done to remove the START/STOP system which we find to be criminal for mechanical parts, as well as allowing video in motion and reveal some other features….. To make it easy, all your modification dreams on your own RS5 are basically achievable at RS QUATTRO…
For any pricing or information inquiries, send us an email on : [email protected] . We transform your dreams into reality. Don't we have the best job in the world?